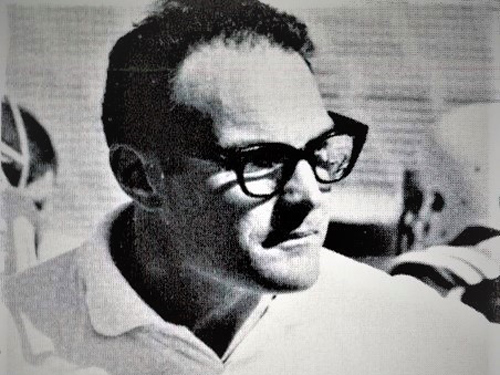 Vince Tringali
Coach: Football
Years: 1959-68
School: St. Ignatius
Vince Tringali was a native son of San Francisco and North Beach. He attended Galileo High School, the College of Marin and the University of San Francisco. He achieved success on the football field as a 2- way end at the College of Marin and as a starting defensive guard on the 1951 USF team that went undefeated and included teammates Ollie Matson, Gino Marchetti, Bob St. Clair and Dick Stanfel, all future NFL Hall of Fame inductees. After USF. Vince served 2 years in U. S. Army during the Korean War, distinguishing himself in the battle of Pork Chop Hill.
After his Army service Vince Tringali returned to his hometown and entered the produce trade. In 1959 he was hired by St. Ignatius High School as an English teacher and assistant football coach to Larry McInerney. During Vince's three years as assistant coach, St. Ignatius won 2 AAA Round Robin football titles, with a combined record of 26-6-1 (.750). During these 3 years Vince discovered his true vocation: working with young men as a football coach.
In 1962, Vince was appointed head football coach at St. Ignatius. This began a 7-year run, where St. Ignatius football teams rolled up a record of 54-14-1 (.782). These years included SI winning 3 AAA football Championships and 1 WCAL football Championship, with Vince winning 3 AAA and 1 WCAL Coach of the Year awards, 1 Northern California Coach of the Year award and being named to co-coach the North Shrine team in 1963.
Vince's 1962 and 1963 teams combined for a 2-year record of 19-0, with the 1962 team named the number 1 high school team in the country. Vince's 1966 and 1967 teams combined for a 2-year record of 18-3, being named number 11 in the state in 1966 and number 9 in the state in 1967.
During his 10-year coaching career at St. Ignatius, Vince Tringali coached 9 San Francisco Prep Hall of Fame inductees and one NFL Pro Hall of Fame inductee. Many of Coach Tringali's players went on to successful playing careers in colleges at all levels. Many of these players also became successful coaches in later life at high schools, colleges and in the NFL.
Vince Tringali's commitment and inspiration taught young men to play outstanding football and to see the value in hard work, loyalty, sportsmanship and always sticking together to achieve a common goal. Continuing friendships developed across the teams he coached extend beyond the simple sentiment that accompanies aging, with former players staying very connected over the long years since their playing days. The players support 3 student aid scholarships for current SI football players in memory of Coach Tringali.