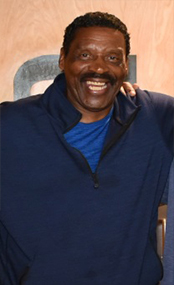 Michael Norris
Sport: Baseball
Years: 1970-71, 1971-73
School: Polytechnic, Balboa
Balboa baseball great Mike Norris was the AAA Player of the Year in 1972 and Cy Young runner up as a member of the Oakland A's in 1980. Born in San Francisco, Mike Norris was raised in the Western Addition where he honed his baseball skills at Margaret Hayward playground.
A 1st Team All-City pitcher at Polytechnic in '71, he continued his pitching and ball playing success at Balboa after Poly's closure. In '72, he had a 7-0 pitching record and hit over .300 while also playing outfield. Again, named 1st Team All-City to go with Player of the Year honors. Former Balboa coach Ed Nevius said this about his star. "I would place Mike Norris in the upper echelon of players who participated in the AAA. He was one of the elite pitchers to come out of San Francisco."
The A's number one pick in '73, Mike was the stalwart on the Oakland pitching staff and was twice recipient of the Golden Glove award along with an All-Star team selection in 1981. In 2017, named to the Oakland A's All-Time team at their 50th Anniversary. Inducted into the Balboa Athletic Hall of Fame.