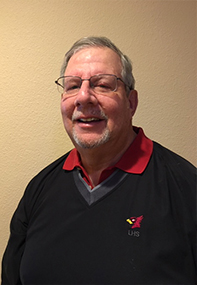 Lee Silverstein
Coach: Golf
Years: 1983-2006
School: Lowell
Lee Silverstein graduated from George Washington High School where he lettered in Golf. He spent his teaching career at Lowell High School. From 1983-2006 Lee coached the boys golf
teams which included girls. In 1996 CIF implemented Girls Golf as a separate team. Lee went
on to win 23 AAA Golf Championships – 16 Boys- 7 Girls, and 2 AAA Girls Volleyball
Championships in 1985 & 1986.
Lee is President of the John Susko Memorial Foundation for Junior Golf since 1985. He has provided S.F.CIF Section with Golf equipment, shirts, entry fees, tournaments and scholarships. From 1985-2003 Lee had an agreement with Park & Rec Dept. to allow High School team members to play on S.F. Golf Courses for $1.00!
Lee continues to sponsor an invitational golf tournament each year with 26 teams competing
from all over Northern California. Lee was inducted into the Lowell High School Sports Hall of Fame in 2012. He was selected as a Golden Bagel recipient by the Jewish Sports Hall of Fame of No. CA. In 2017 for making a difference in the lives of youth through sports.