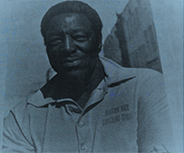 Ernest "Mac" McNealy
Coach: Basketball, Track & Field Baseball
Years: 1963-95
School: Mission
Ernest McNealy, Sr., the first African American varsity basketball coach in San Francisco, was a long-time coach and teacher at Mission High School.
Coach McNealy joined the Mission staff in the late 1950s. He succeeded Lloyd Leith, a Hall of Fame NBA referee who also coached high school and youth basketball in San Francisco. It is hard to replace a legend. Coach McNealy made the transition smoothly; indeed, Coach McNealy became the coaching legend.
Coach McNealy coached Mission's boys' basketball teams to four AAA championships: Mission won in 1976-77, and they won three consecutive championships in 1990-91, 1991-92, and 1992-93.
Coach McNealy was successful in other sports also. He coached football and track throughout his tenure at Mission. Under his lead, the Mission track teams of the mid-1960s were highly successful.
To multiple generations of San Franciscans, Coach McNealy was both a symbol, a coach, and a leader. To those who played for him and were taught by him, he was often one of the most important guiding forces in their life. To this day, generations of Mission alumni attest to the important role that Coach McNealy played in their life. Coach McNealy is a welcome addition to the Prep Hall of Fame.